ProControl+ named a finalist in the 2020 Benchmark Magazine Innovation Awards
Friday 01 May 2020 - Pyronix - Lee Bothamley
ProControl+ named a finalist in the 2020 Benchmark Magazine Innovation Awards
Rotherham, UK, May 2020 – Pyronix is delighted to announce that ProControl+ is a finalist in the 2020 Benchmark Magazine Innovation Awards.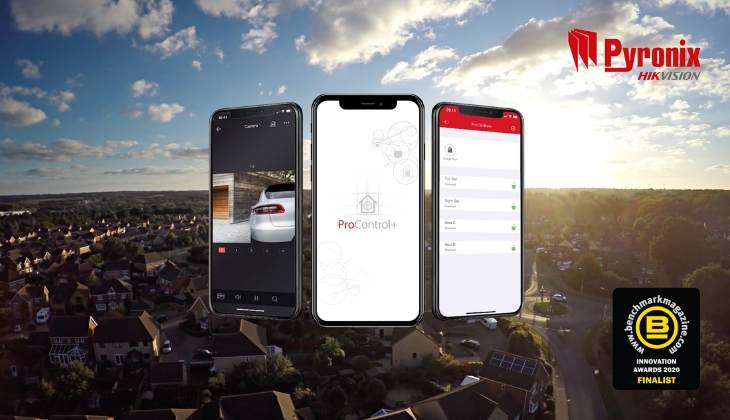 The solution offers the ability to not only control the Enforcer V10 system remotely, but to also receive voice push notifications and video verification of activity; extending the capabilities and value of a system to both installers and users alike.
"With all the recent developments we've made to ProControl+ it's fantastic to see this recognised with finalist status for this award," Laurence Kenny, Pyronix Marketing Manager, said.
The Benchmark Magazine Innovation Awards recognises and rewards innovative thinking within the industry, where the developments of manufacturers and service providers delivers tangible benefits and added value through the technological capabilities of their products.
This is something Pyronix is very passionate about and has tried to deliver in abundance with its ProControl+ solution.
Using the PyronixCloud infrastructure, this smart device application can be configured per app user to deliver the level of control, as well as the specific voice push notifications required for specific Enforcer V10 system activity; informing the user with exactly what's happening.
This ability can then be extended even further by adding cameras to the system and linking these with specific peripherals to deliver video verification of activations as well.
"Voice push notifications and video verification capabilities add a lot of value to the system in terms of what our installers can offer their customers, as well as the level of protection and function their customers receive," Laurence said.
He continued: "The ability of the user to be alerted with a notification that tells them exactly what's happening can be invaluable, instead of the uncertainty of having to check the app.
"Not only that, but this ability alongside video verification also allows the user to be notified and then see exactly what's happening, so they can take appropriate action.
"This delivers a much more holistic solution and extends what the installer can offer, for example, by adding an XDL12TT-WE outdoor detector and an outdoor camera, the user can be alerted as a potential intruder approaches the property and be shown exactly what's happening – utilising perimeter protection instead of relying on a break in to be attempted for an alarm to be raised.

"At Pyronix, we're delighted to have ProControl+ as a finalist for this prestigious award and see it as recognition of all the hard work and effort we put into making our products and solutions the best for our installers and their customers."

[ENDS]
For more information, contact
Lee Bothamley
Communications Executive
Pyronix Hikvision
Tel: +44 (0)1709 700100
Notes to Editors
About Pyronix Hikvision
Part of the world leading Hikvision Group, Pyronix is the intrusion specialist in the Hikvision Alarms division. Designing and manufacturing market-leading security equipment for residential, commercial and industrial applications, Pyronix has patented many technologies and won numerous awards over more than three decades in the electronic security industry.
Joining the Hikvision Alarms division in 2016, the company is driven by innovation and quality, with a key focus on R&D, engineering excellence, cutting edge design and state-of-the-art manufacturing facilities.
Delivering the global security industry with versatile, effective and reliable solutions, Pyronix stays ahead of the curve and is dedicated to providing world intrusion markets with superior security solutions, while engaging with and supporting customers.