Full list of national finalists announced - BSA 2020
Tuesday 02 June 2020 - BSIA COMMS
The full list of national finalists for the BSIA's British Security Awards have been released - and we hope you are as pleased with them as we are!
Despite a quiet start due to somewhat turbulent and uncertain times across the globe, we received over 130 entries in the varying categories.
The Awards celebrate security excellence, providing a platform for both individuals and companies to have their achievements recognised on a national stage.
This year, despite being online, promises to be an exciting event with guest speakers to look forward to.
Congratulations to all who entered and best of luck to our finalists 2020!
#BSAonline2020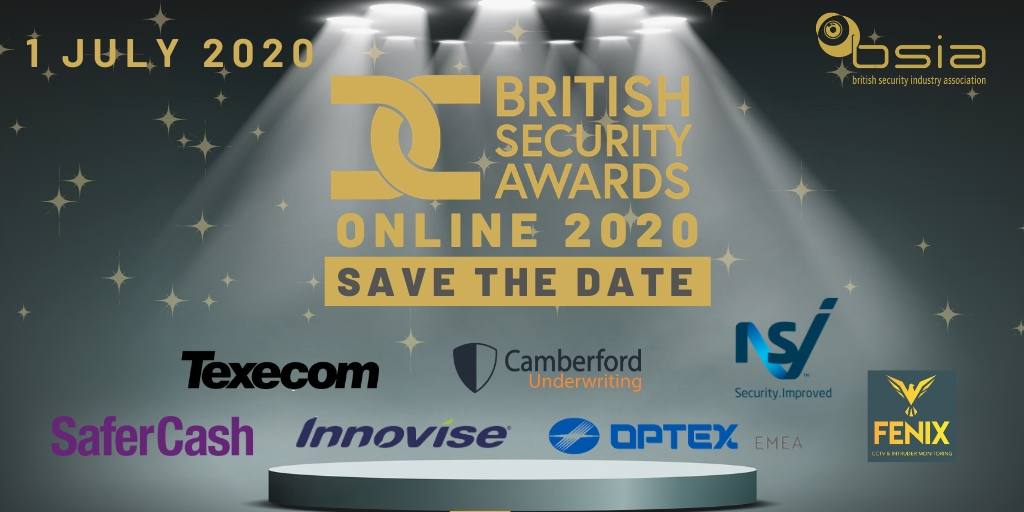 Thank you to our sponsors: Innovise, Texecom, SaferCash, Camberford Underwriting, NSI, Optex and Fenix Monitoring.
BEST USE OF TECHNOLOGY
G4S - Broadwalk Shopping Centre
G4S & DWP
G4S & RBS
Simon Moss B&Q - Mitie
LRM Security
SME OF THE YEAR
Fenix Monitoring
Sicuro UK Ltd
NATIONAL PARTNERSHIP
Amulet
G4S
Mitie
Selectamark
Smartwater
INNOVATIVE SECURITY PROJECT
Amulet
CSL
Mitie
STM Group
Smiths Detection
Optex
INSTALLER OF THE YEAR
NMCN
Mitie
APPRENTICE OF THE YEAR
Jacek Kwiecien - Connelly Security Systems
Jack Bultitude - Elecsec UK Ltd
Tessa Bruce - EFT Systems
BUSINESS OF THE YEAR
Mitie
STM Group
CONTRIBUTION TO THE INDUSTRY
Jason Towse - Mitie
Mike Cleary - Smartwater
Paul Jacomb - STM Group
BEST NEWCOMER
Daniel Vilka - Mitie
Harriet Giles - Mitie
BEST TEAM
Christopher Fearnley, Stephanie Ritchie, Jo Painter - Mitie
Steven Green, Anwar Serroukh, James Barrowman- MAN Commercial Protection
Helen Hyman, David Samuels, Danny Plass- Mitie
Alex Collins, Nathan McKinnon, Mark Taylor - Mitie
George Johnson, Andy Carscadden, William Stephen - Mitie
Martin Wain, Barry Burnham, and team - Westgrove Group
Gary Hayes, David Bowden, Gary Palmer - Mitie
Adam Coulback, Fred Thompson, Dumazille Maphosa - G4S
OUTSTANDING ACT
Emilija Zemaitaityte & Barry Pullen – Mitie
Rohan Ketan Kumar - Westgrove Group
James Barrowman - MAN Commercial Protection
Colin Monk - Mitie
Thomas Irving - G4S
Damian Morris & David Mussell - Mitie
Paul Bird & Team - Westgrove Group
Tanya Watts & Emma Johnson - G4S
Adam Rich - Mitie
Benjamin Brady - Mitie
Riasat Mahmood, Meluleki Ndlovu - G4S
Clive Mason, Callum Ward, Lee Payne - Mitie
SERVICE TO THE CUSTOMER
Roger Williams - Mitie
Waqas Maroof - Westgrove Group
Amy Harrison - Mitie
Stephen Walker - Mitie
Anthony Thompson - Mitie
Daniel Osborne - Mitie
Imran Zafar - G4S
Thomas Ibbetson - G4S
SECURITY MANAGER OF THE YEAR
Babatunde Lawal - G4S
Steven Green - MAN Commercial Protection
Tony Stallard - Mitie
Hayley Brogden - Mitie
Stewart Todd - Westgrove Group
All finalists can be very proud to have reached the finals and we look forward to announcing the winner of each category at the British Security Awards Online 2020 on 1 July.